SEP 2022 P NATION Center Audition
작성일

2022.09.01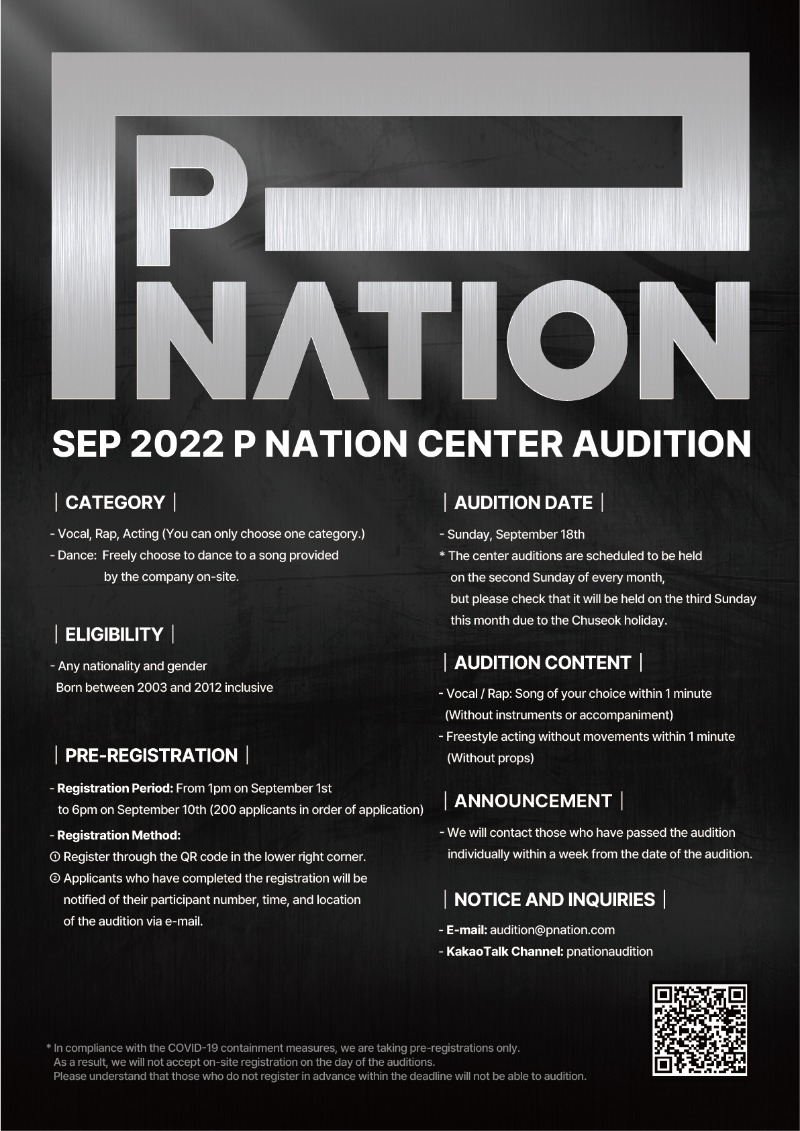 SEP 2022 P NATION Center Audition
In compliance with the COVID-19 containment measures, we are taking pre-registrations only. As a result, we will not accept on-site registration on the day of the auditions. Please understand that those who do not register in advance within the deadline will not be able to audition.
1.   Category
* Vocal, rap, acting (You can only choose one category.)
* Applicants can also freely choose to dance to a song provided by the company on-site.
2.   Eligibility
* Any nationality and gender / Born between 2003 and 2012 inclusive
3.   Pre-registration
* Registration Period: From 1pm on SEP 1st to 6pm on SEP 10th (200 applicants in order of application)
* Registration Method:
(1) Register through the QR code on the last page
(2) Applicants who have completed the registration will be notified of their participant number, time, and location of the audition via e-mail.
4.   Audition Date
* Sunday, SEP 18th
5.   Audition Content
* Vocal / Rap: Song of your choice within 1 minute (Without instruments or accompaniment)
* Acting: movements within 1 minute (Without props)
6.   Notice and Inquiries regarding the audition
* E-mail: audition@pnation.com
* KakaoTalk Channel: pnationaudition